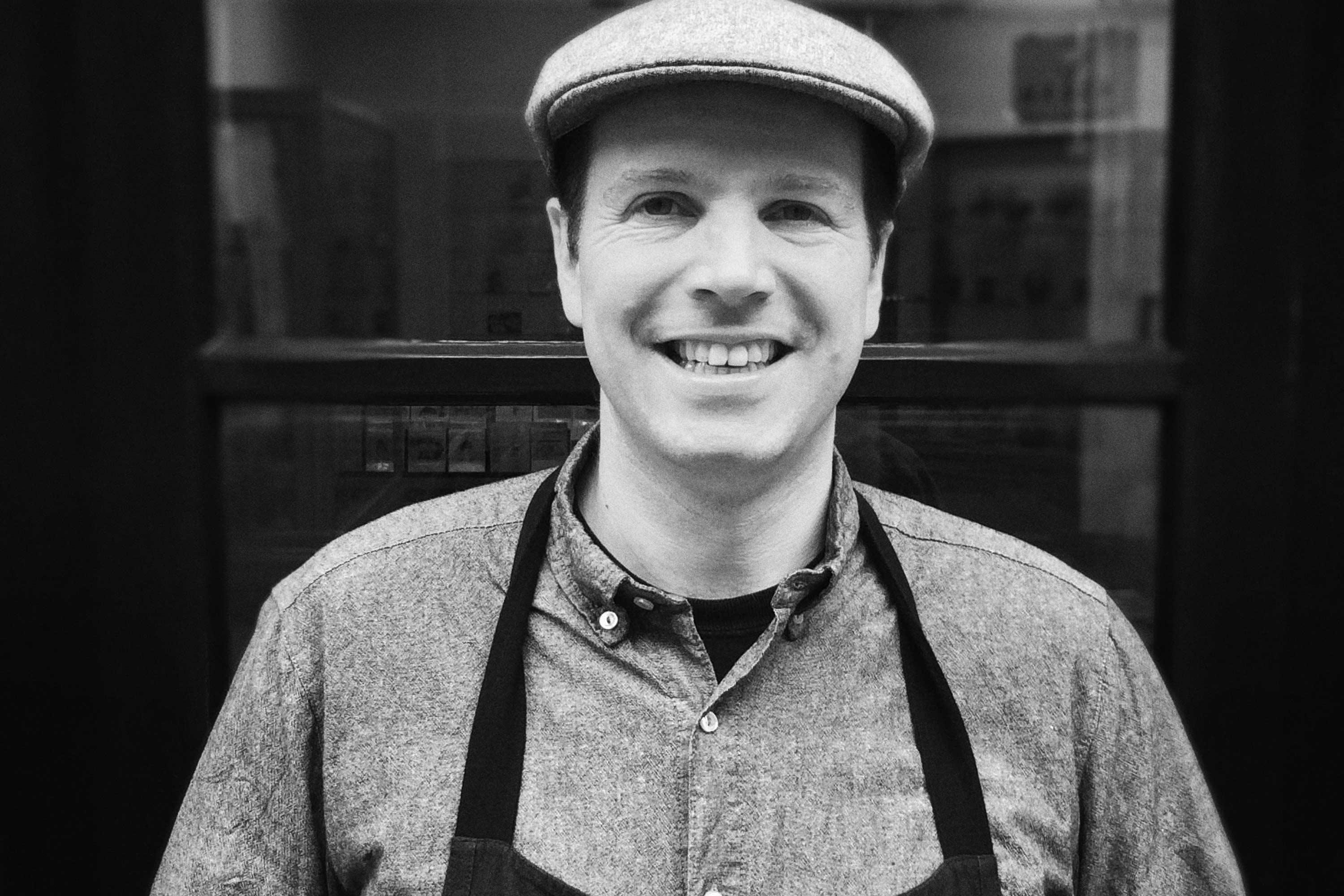 Conversation with Tim D'Offay from Postcard Teas
Tim D'Offay is a purveyor of some of the world's finest teas and runs London's most beautiful tea store Postcard Teas, with his wife and business partner. His passion and knowledge for tea knows no bounds and for anyone lucky enough to visit the store on a day that Tim is around, they will be in for a treat. Postcard Teas works to support the growth and sustainability of smallholder independent tea farmers throughout the world.

We spent time talking to Tim over a cup of darjeeling tea, to find out what makes him so passionate and committed to what he does.
You describe Postcard Teas as London's finest tea store. That's quite a statement, as London has a lot to do with tea historically and it plays quite an important role in British culture. What attracted you to tea and what role do you think it plays in this heritage?
When we started out around 11 years ago, we were the first specialist tea shop not to have any tea bags. And when we introduced provenance properly in 2008 on all our stock [putting the maker's name and location on all our 60 teas, including the blends], we saw it as a step forward because no else was really doing it. For me, being in London, there was a huge amount of heritage. Even Harley Street used to be known as tea caddy street or something similar as a lot of the East India Tea Company directors used to live there. And here at our Bond Street store, a grocery shop once stood almost two centuries ago which sold tea – so there's a nice connection there. Historically, the old tea dealers in the area sold predominantly Chinese tea, but they were bringing in lots of different types and of a variety not really available now, since things have been compressed in supermarkets.
Lin Bu Gao testing the quality of the dried tea leaves
So how did your journey into tea begin?
I drank tea as a kid. Occasionally, I made it loose leaf but up until I went to Japan when I graduated from studying I made tea bag tea. Having concentrated on Indian and African religions at King's College London, I had many Japanese friends. We were in the depths of the early 1990s recession. I wanted to escape this country and learn a foreign language. Everyone said to me "Go to Kyoto. You'll love it; it's a beautiful city."
In Kyoto, I lived with a family that made all types of tea – from black to green and Chinese. They had so many connections to the tea world in Kyoto, so I was immediately exposed to the tea ceremony, which I started to take part in. From there, I went down to Uji, just south of Kyoto, where tea is grown, and started learning about how it is cultivated and processed. I was really interested from then. And on regular trips back to the UK, I would often stop to visit friends I had made in Asia, China, Korea and Taiwan. On one memorable trip to a place called Pinlin in Taiwan, I visited a tea museum and could see an expanse of tea fields. As I left, after drinking great tea outdoors and seeing my first tea history museum, I immediately felt that was what I wanted to do – I wanted to work with tea. I was in this amazing natural setting with something I understood and felt passionate about. But my journey into tea also came with culture, incredible ceramics and calligraphy.
It seems like all these things came together so naturally and drew you to this point. I think sometimes if you get a sense of a direction and energy, then doors start to open and things appear; often because you have a moment of self-realisation.
Up until that point, I'd been frustrated. As a kid, I was very privileged. I was surrounded by interesting people, had a good time at school and was a lucky kind of kid. But I had this big hole in my life because I couldn't figure out what to do and it bugged me so much. It was in a sense a creeping revelation, then suddenly on that road back from Pinlin, I thought "I know what I need to do and I know what I want to do". I didn't know quite how to do it but it was a relief. One of the things I love today about tea is the sense that you're always learning. There is always something to challenge and fascinate me. I find that immensely rewarding. I can't imagine being in a profession where I feel like I've done it all before. I feel amazingly lucky.
It sounds like there is so much to discover and I guess people play such a huge part in that discovery.
Absolutely. That connection between the people we work with, who are big heroes of ours, is one of the reasons why it's lovely to have a store. Some of my early tea-selling experiences were trying to wholesale tea and I hated it because I was mainly meeting people who really had no interest in tea, just in price. But most of the people who walk through this door are interested in tea, in learning more, or tasting some. We have a good chance of being able to relate to them and help them with what they want and that's amazingly satisfying. Luckily, we do now wholesale to incredible chefs and coffee experts across Europe, who genuinely love tea and many of them started as retail customers of ours.
Tetsuo Ohasji looking at the tea crop
One of the things we really love about the store and what you're doing is that you work with independent farmers from all over the world. And that you have these really long term relationships with each individual. It's like you are becoming a natural bridge between cultures; connecting those who come into your store with each of the growers. How do you go about discovering the farmers?
I first started importing teas from just outside Kyoto because we had a link to a family that had been blending tea for generations and supplying one of the most famous tea merchants in Kyoto. And from there I started visiting all these other countries. Initially often working with people who only spoke English outside Japan, but then through working with my Chinese colleague Lu, we were trying to meet people who didn't speak English. With my wife, who is Japanese, and Lu, who is Chinese, we have worked together for almost 10 years and they were both absolutely crucial in making those connections. We did a lot of research before we went on trips. We contacted people who the newspapers and the Internet said were the best makers in that area. It wasn't just one maker but we would contact several and then we'd go and see them. And the ones we struck up a relationship with, we worked with. We received wonderful hospitality in Japan, China, Taiwan and Korea.
How important do you think it is on a broader perspective outside of tea to support local farmers and producers for the long term and the longer term effect on the planet?
We focus on small independent farmers because they don't usually have the foreign market, they mainly supply locally. But by supplying internationally they can often get a premium for what they do. It also means they can get more stability. We try not to be the only supplier to any of the smaller growers, but hopefully offer stability and very good prices. We choose to support smaller farmers because we feel they often have a kind of permaculture (a more sustainable way of using their land) or they grow many other things aside from the mono crop, which is tea. Most large tea estates, plantations and farms only grow tea. The smaller ones are often a family living off their land, growing vegetables and crops too. So that's one good thing about it. And because they are the people doing the actual farming, they tend to use only natural fertilisers. In most of our farms there is also no hard labour and if there is, we can try and influence the price that people get paid. This is a major issue in tea because you can buy a very expensive tea in a very grand place, which is made by people paid less than £1.50 a day. But a consumer is paying extreme prices – equivalent to four, five or even £600 a kilo pro rata and that can leave a very bitter taste.
So in some ways, by helping farmers to stabilise on price, that automatically has a positive knock on effect on the rest of their lives.
It's not the only way, but until recently fair trade, for example, didn't address the price to individual growers. It makes sure there is a premium added, but it's a premium to the whole group. It doesn't increase direct wages. The wages are the issue: you can throw money into schools, you can throw money into computers, which is all very noble, but the only way to create a sustainable community is to make sure that they are paid properly. As a white foreigner, when you go to certain places you often see what you want to see. You have to go beyond things, in my opinion.
There are lots of small growers but there aren't a lot of small producers and this is the key for us. How do we get people who grow tea to become producers and therefore control their destiny? While they're just selling their leaf, they are subject to the economics of factories that buy their leaf and these factories can offer whatever rate they like. The price of tea goes up and down, which can leave farmers destitute by the price plunging. Whereas if they make it themselves, they can sell the tea locally or internationally. We're certainly not the only way but we felt that it was a tiny way we could make a difference and help to combat some of the issues around sustainability of price.
The other big issue facing Asia is this massive shift from rural communities to cities and it's a delicate balance. I know lots of people we work with are very content in their communities but obviously they want to live the lives they desire, which I do think is possible. But it is about the balance of the life that they want, just like it is in the West. And if we keep pushing people into cities it means we're going to come across big environmental and social problems too.
As a society we must create a need for people to remain in their communities and for crafts and traditions to be passed on through generations, which at the moment doesn't seem as desirable as moving to the bright lights of the city.
Technology has a huge hand in pushing people towards cities. For tea, depending on where it is grown, it can have quite a short season. Our most famous tea maker in China also has a painting and decorating business, and before that a jeans business. So lots of them need to have different businesses to survive. But I believe it's entirely possible for them to remain doing what they want to do with the right business opportunities to help them sustain this.
You said one of the many things you enjoy about having this shop is that you get lots of people coming to visit, to discover and drink tea with you. What does tea symbolise for you?
I think primarily tea is about hospitality. That's what the shop is in my heart. Ultimately, tea is about making something for somebody; giving it to them, and the meaning of that. The intention is super important – if you are distracted or angry it all goes into the tea in some way.
Tea also plays such an important role in so many cultures all over the world.
I am fascinated how it becomes so ingrained in so many countries. In a lot of cases it becomes the national drink. Even in Japan, when it was introduced, it was originally considered Chinese and because it was Chinese it quickly became 'Japanified'. So this strange foreign thing became associated with the culture. With British tea, English Breakfast tea and all this stuff, there is nothing English about the ingredients but it has become part of our culture like it did in Japan. I think that's probably the most amazing thing about tea.
The stories behind the teas that you sell, such as the Osmanthus Long Jing green tea, are almost as magical as the tea itself. It makes you feel more connected to the person growing it and so it becomes a much more emotional feeling when you're drinking it.
They're often sort of heroes to us and when you see the love and pride that goes into it all, I feel very honoured to sell their amazing teas and to tell the story. I understand how important the story is. But in the end, it has to taste good. I remember one customer being told about the provenance of a tea, saying "I don't fucking care who made it, I just want it to taste good". Of course that was very shocking to us and I don't agree with that sentiment. But for those who want to connect with the information, that's fabulous, and makes us very happy.
So what's next? We would love to see Postcard Teas all over the world.
The big thing moving forward is that I'm very worried about the way tea is going. It's the world's most popular prepared beverage but it's being pushed strangely by soft drinks, juices, and then coffee. Coffee is actually quite far behind soft drinks, which are making huge gains in less developed countries where maybe the water supplies aren't great and they're considered a safe option. So going forward, I think the popularity of tea and the many different ways of drinking it is very important to promote. I hope we can play a part in that. I'm not sure exactly how we do it, but that's my big goal for the rest of my life, to be honest.
I think the health and environmental aspect of this is also important: it takes much less water and energy to make tea than coffee and soft drinks and less packaging. Without teabags even less energy is used. Tea is extremely environmentally friendly and the world hasn't quite woken up to this. So it's about making it relevant. And I don't know quite how we do that in the West and everywhere else. Tea is very complex because it's mainly made at home. You don't usually add value when it's drunk outside and that's one of the things that we're trying to teach people: how to make tea at home rather than just create a café. So that's a big goal for us.
We are also hopefully going to document a Japanese tea ceremony because we think it's very valid, and particularly at the moment as the tradition is sort of changing in Japan too. Many of the people who got tea where it is today have recently died or retired, so the next generation has quite a lot on its shoulders. Unless tea continues to evolve and builds on tradition it will lose relevance
I think that's the only way as a world we can move forward. Without losing the essence of tradition, we have to keep evolving and moving things in the direction of the future.
Absolutely. How one does that is another question, but it's the essence which has to remain; the form always changes but the essence stays as true as it can be.