Conversation with Dolly Faibyshev
Dolly Faibyshev is an American photographer born to Russian immigrant parents in Philadelphia. Her pictures are brimful of brightness and playful tones, dazzling with a truly inimitable style. But lightness and fun is just one layer – she strives for juxtaposition and satire, and hopes her work speaks on different levels. We chat to Dolly in New York, where she has lived for around a decade. Her projects explore the meaning of the American dream in all its forms, a concept which seems ever more poignant in the
U.S. right now.
Can you share your story about becoming the photographer you are?
I'm self-taught but I never picked up a camera as a kid. I went to school for something completely different. I didn't know what I wanted to do and my parents were a little strict. They suggested I went to business school so I did, but I dropped out. I ended up studying international relations and economics and then working for a private bank and I was miserable.
I finally quit and but still then had a string of finance related jobs. But I started trying whatever I could after work. I tried internships, including for a small fashion label, sewing labels into their t-shirts for free. And because I was trying out different things I started looking into cameras and thought I'd give it a go, with my first semi-fancy digital camera. I wasn't good at first, at all.
I think if I had gone to photography school it would have been different. But I didn't know what I was doing. Then I went on a trip to Palm Springs, California, and took photos of these beautiful mid-century houses and it was the first time I felt compelled to take a good picture and I just became obsessed with taking pictures of these houses when I was there. When I came back it seemed that people responded [well] to them. And I started slowly taking more pictures and learning about photography. I think it took a really long time to actually be good at it. After I got into editorial photography, I learned how to really take pictures as a photojournalist and I think that helped me in my fine art. I think they probably informed each other.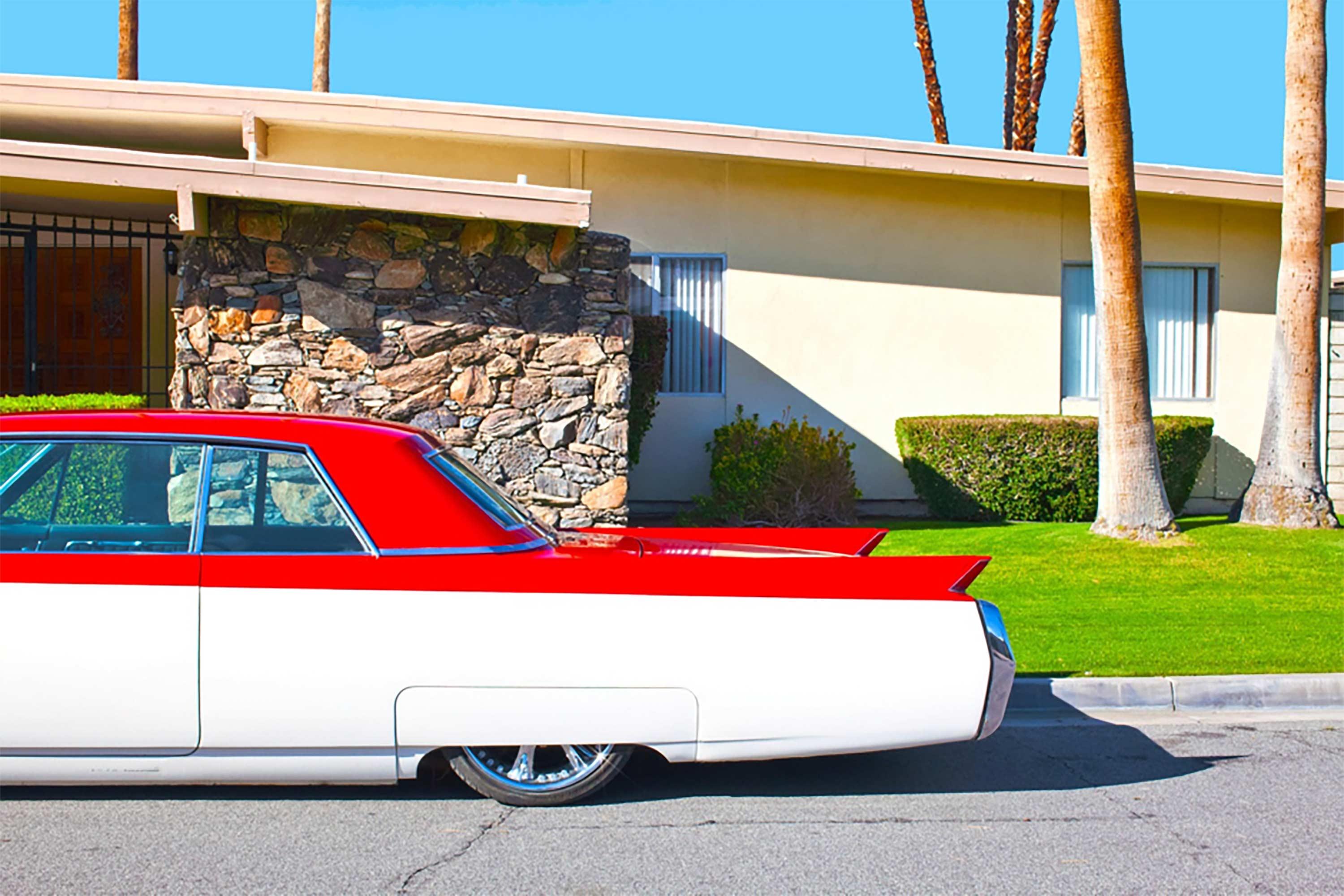 When you hear stories of people being self-taught, it's heartening. You turned your hand to lots of different things and to have that attitude, to just pick up the camera and give it a go, when a lot of people don't push themselves to try something new, is very positive.
Thank you! It didn't come naturally at first, and it sure felt like a long learning process, but for me, making art is so rewarding that I really recommend it to everyone. The failures along the way are as much a part of it as the successes. I have to remind myself of that sometimes too!
How did you arrive at this boldness, the technicolour feeling and playful vision I feel you portray in your pictures?
I would like to think I started off in that style. The Palm Springs environment I experienced; the West Coast [of the U.S.] in general and its colourful architecture all brought that out. It feels like the sun is much harsher there. It's the desert so the sun really brings out the colours, the light and the shadows and I really responded to that. I also like to stay positive with my photography.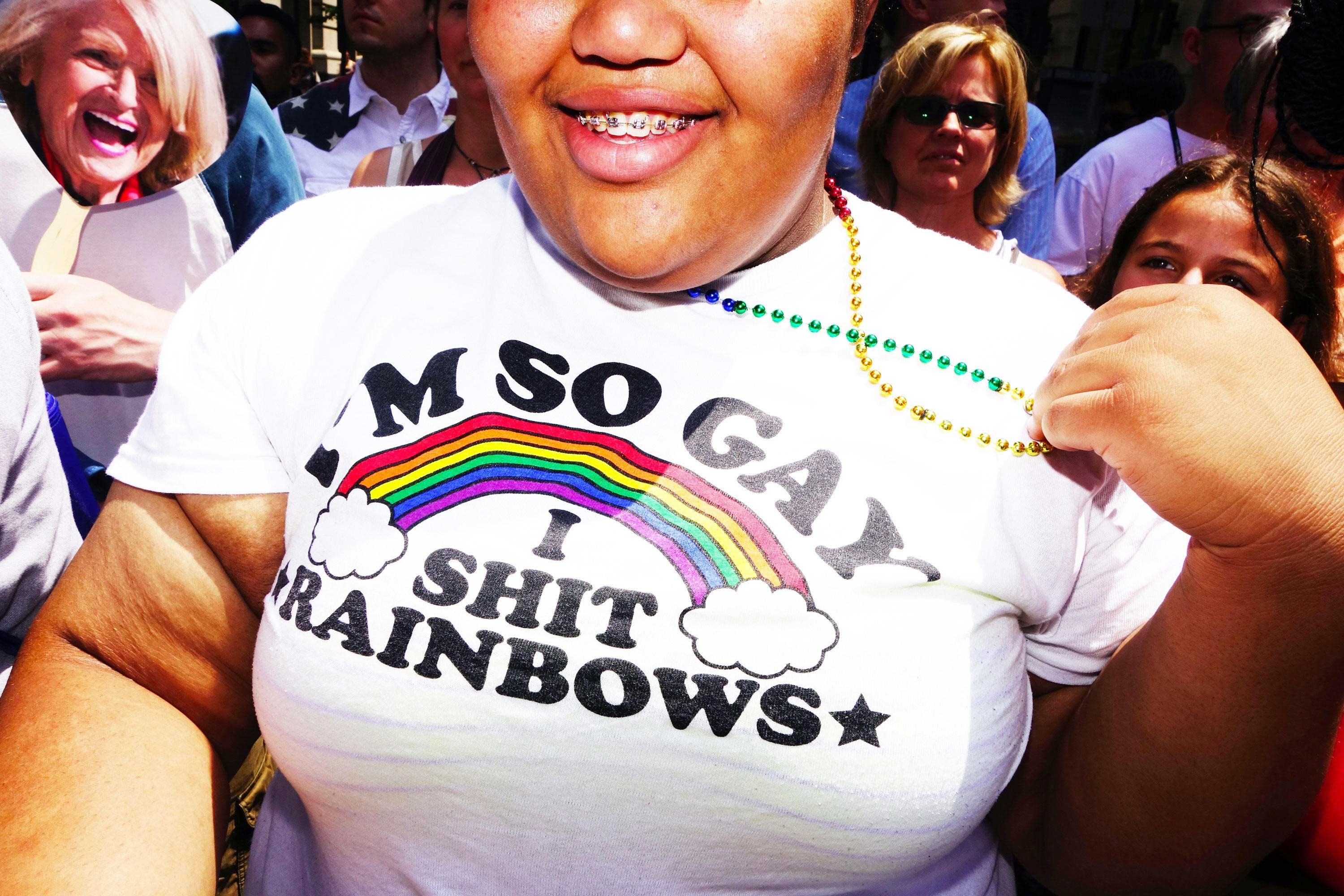 So we've touched on your style. But what words would you associate with your photography?
Sense of humour, composition and colour.
You are an American born to Russian immigrant parents. How do you feel that's affected your vision and photographic journey?
The best way to explain it is using the example of my Dolly Does Vegas series. My parents love Las Vegas. I liked to travel with them so I went with them to Vegas on a trip a long time ago, for the first time, and hated it. I couldn't believe they loved this place so much and I started to try to understand why they liked it so much. They weren't overwhelmed by the gaudiness and cheapness, they overlooked it, and I think it had to do with their love of America – their adopted homeland – and how Vegas represents this kind of over the top Americana. With all these over the top structures and casinos, it's like a fairy tale to them and they really think of it as a playground. So I started to see that through their eyes and started to think there's a great photo opportunity here. That sort of taught me to look for the beauty in everything and to find photos even in places which seem uninspiring or depressing; there is always something beautiful to be found.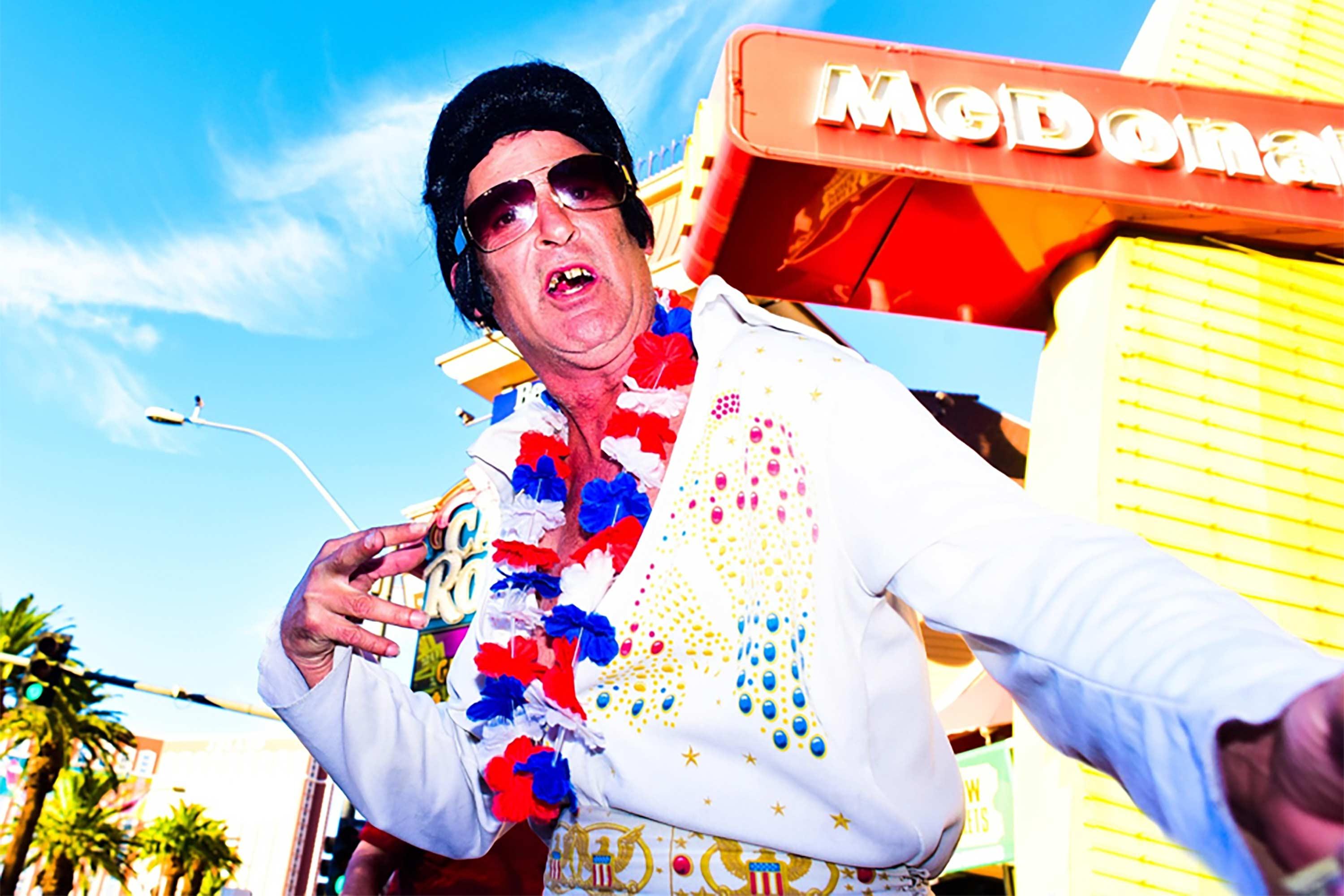 I can totally understand what you're saying and what you feel you took from that. I live in south east London and am often struck by how grim parts of it initially feel. But then you'll look at a garish shop, adorned with mobile phones, and some watermelons perched on the wall next to it, against rolls of kitsch lino hanging down, and there's suddenly something weirdly beautiful in it all.
I totally agree. There's life happening everywhere in every nook and cranny and you can capture it all beautifully if you try.
Apart from the way your parents inspired your photographic journey, is there anyone else who inspires you to keep going and pushes you artistically?
My boyfriend is also an artist currently working on his first feature film, so we inspire and push each other every day. We are constantly going out to see all forms of art - film, photography, painting, sculpture, music, theater, etc. - and look for inspiration in everything. I really believe every form of art is a new opportunity to be amazed and moved.
Do you have things in mind when taking a photo – to get the best image?
I guess whenever I go out to take photos all I think about is just to get one good photo that pleases your eye – that if you saw in a gallery or a book, you would connect to it. So my goal is always to try and just take that one great photo.
When people do react to my pictures, that feels great and I think that's what makes me connected to art in general, to any art. It's about feeling some kind of emotion; art has done its job and was successful if it made me feel something.
How do you make sure you continually mature as a photographer?
I think it's about practise, practice, practice, and to keep looking for inspiration everywhere. And also trying to teach or challenge myself to take a photo that I've never seen before.
Tell me a little a bit more about the I Love New York project and why you started it.
That was something I started as a study in finding new in the old. I was feeling that I really needed to go out and take some photos but wasn't finding any inspiration.
Any time I travel I take one of those double decker tour buses on the first day to get an overview of the city to see what I like and don't like and want to revisit. And I see them all the time in New York but I ignore them because I live here. So I thought I should really take my camera and get on one to see what it's like to be a tourist in my city. I did that and would hop off at all the touristy spots that you usually ignore. And that inspired me – I was pretending to be a tourist and watching other people get excited about things I don't necessarily explore on a daily basis. I saw things like The World Trade Center and Memorial, the UN building, Times Square. I went up to the top of the Empire State Building and Top of the Rock at Rockefeller Center, and I took a Statue of Liberty cruise. I was also trying to portray the humour of the city.
A sense of fun and playfulness, seeing the excitement and beauty in the everyday – those things inspire you. But in terms of the future, is there anywhere vastly different you want photography to take you? Or where you see yourself?
I guess the 15 Minutes series, where I pretend to be an Andy Warhol Polaroid, is already a departure from my other stuff. I love Warhol as an artist and I fell in love with his Polaroids and also, as a person who loves art, it was sort of disheartening to know I will never be able to afford a Warhol myself, so it's a sort of comment on the art world itself; that these throw away Polaroids, which were part of the process but weren't the final thing, are now insanely expensive. So really at first, I just felt I wanted to own this Warhol. I loved the Dolly Parton one he did, so I went out and got a professional wig made, did my make-up and did the research on what camera he used. My boyfriend took the photos and would direct me in the photo and use the Polaroid camera to take the picture. And then I would scan it and Photoshop it to get the features closer to Dolly Parton's face so hopefully it makes people do a double take when they see it. I've also done Liza Minnelli and Debbie Harry. And I'm hoping to do more of these portraits. I think they are pushing me artistically.
You've got such an inimitable style. There are so many sad stories portrayed artistically and in the media, and yours have a happy vibe, which I think is a great antidote to today's world.
I hope so. But while I've focused on the lightness and fun in my work, I think (and hope) that there's more going on under the surface. I feel like it speaks on different levels, in a satirical way. For example, the Vegas trips where I saw the misery, but also saw these amazing characters and energy. Dollypalooza and Best In Show are also examples of series where the mood is fun – I love to be fun in my imagery, but also try to explore the yearning and obsession behind it. I strive for that juxtaposition and satire. Although one involves humans and the other involves animals, both series explore the yearning to be the best. At Dollypalooza, each performer puts a lot of love and care into his or her costume, wig and make-up to look like the best, most beautiful Dolly Parton. They yearn to channel Dolly Parton in all her glory. When they perform, they actually lip sync to her music, rather than sing themselves. For Best in Show, it's the obsession to have the best dog breed, though it's hard not to think that humans are really the ones competing here, more so than the dogs. They spend hours meticulously grooming and attending to their dogs (not to mention the time spent raising these breeds according to standards before the competition). The yearning to win Best in Show is palpable.
You've been a nominee two years running in the 30 new and emerging photographers to watch for PDN [an American trade magazine for professional photographers]. It's a fiercely competitive business, so being picked out is a big deal. How does it make you feel?
It always feels good to get any recognition, but as any artist, I think there's always hope for the next achievement. So as nice as it is, it's a reminder to keep going and never settle.